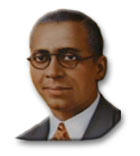 ⇐ Back Professor Frank Coleman (1890-1967)

Ω Frank Coleman was born in Washington, D.C.

Ω Graduated from the M Street High School, Washington, D.C.

Ω Bachelor of Science Degree, Howard University, 1913.

Ω Master of Science Degree, University of Chicago.

Ω Advanced training, University of Pennsylvania.

Ω Professor and head of the Physics Department, Howard University.

Ω U.S. Army Officer, World War I.