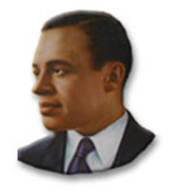 ⇐ Back Dr. Ernest E. Just (1883-1941)

Ω Ernest E. Just was born in Charleston, South Carolina.

Ω Graduated from the Industrial School of the State College, Orangeburg,
South Carolina.

Ω Kimball Union Academy, Meriden, New Hampshire.

Ω Bachelor of Arts Degree, Dartmouth College (Phi Beta Kappa)

Ω Awarded the Spingarn Medal by the NAACP, 1915.

Ω Doctor of Philosophy Degree, University of Chicago, 1916

Ω Bacame the 19th honoree in the U.S. Postal Service's Black Heritage Stamp
Series on February 1, 1996.